"The best things that happen in the corporate world are not the result of one man's work. It's the work of a whole team." Steve Jobs
We hope you are well and had a great weekend.
Whether we're students or adults, telecommuting has become part of our lives without us wanting it.
Knowing that the average concentration time is between 30 min and 1 hour and half and that we have to stay at home 8 hours behind a screen, alone, let me tell you that there are few motivating factors. Nothing can break our concentration. I invite you to read the news about working at home right here!
As a student, my simple smartphone can make me lose focus on a video lecture after two minutes. Scrolling on social networks becomes an automatism.
As an adult, maybe even a parent, I can't imagine the situation during school vacations…
And let's talk about it! Zooming meetings, limited internet connections or people who have never worked this way before!
A solution?
JOIN THE LABO!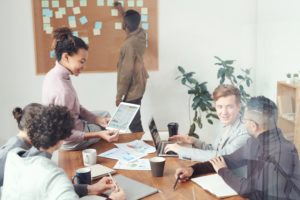 If you're tired of working from home, the Labo Coworking provides you with a friendly, motivating and optimal work place! Human contact is essential, especially after the period we have lived through.
I am convinced that it is essential to separate one's living space from one's work space to be more productive, efficient and above all not to be overwhelmed! And why not read our article on the 5 things to do to be more productive?
Coworking allows you to be in a workspace dedicated to productivity! By seeing your colleagues in person, you can exchange ideas, review your tasks and work together on your projects. You can also, of course, exchange with all the other lab assistants!
Everything is at your disposal to become the best version of yourself at work!
Convinced?
Join us by reserving your meeting room or an open space office, adapted to the number of people who make up your team.
I am convinced that this is the most efficient way to work and the most productive way for the future!
Have a great week!